"World's First" Home-Use Four-Needle Embroidery Machine
We've taken everything you love about Janome embroidery and quadrupled the capacity! With our four needle machine, you can set up your embroidery and move on to other projects while the MB-4S gets it done.
The MB-4S is built to work with most embroidery formats, including those used by industry professionals. It is compatible with six industry-standard Tajima hoops, as well as the four available Janome hoops to further expand your creative opportunities.
Features
Backlit LCD screen.
Auto thread cutter.
USB memory key compatible
ATA PC card port and USB port (Host) on RCS; USB port on MB-4S
Compatible with Janome software
Embroidery speed up to 800spm
Built-in features:

Built-in Designs: 50
Fonts: 10
Monogramming: 2 & 3 letter
Expanded built-in memory

Extra large bobbin is 1.4 times larger than a regular bobbin
Change colors to favorite thread: Janome, Robison-Anton, Madeira, Mettler
Drag & Drop editing for easy placement
Embroidery design resize 80% - 120% by 1%
Rotate in 1 and 90 degree increments (clockwise / counter clockwise)
Flip vertically and horizontally
Standard hoops:

M1: 9.46" x 7.88" (240mm x 200mm)
M2: 5" x 4.3" (126mm x 110mm)
M3: 50mm x 50mm

Embroidery area tracing
My SET screen controls for contrast, in/cm, designation and other customization
Zoom in and out
Multi-language selection
Stitch-out time indicator
Stitch Counter
Upper thread and presser foot sensors
Manual thread tension control
Ball bearing precision
Key Features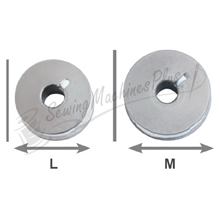 NEW! Extra large bobbin.
Extra large bobbin is 1.4 times larger than a regular bobbin.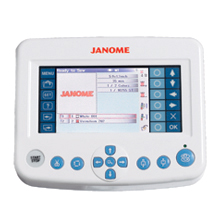 Remote Computer Screen (RCS).
The Remote Computer Screen (RCS) gives you total set-up and editing control with up to 65,536 colors. One RCS can power many machines, saving the cost of additional controllers.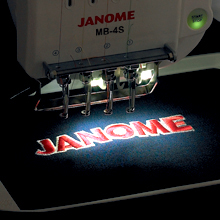 LED Light.
The LED Light offers precise lighting for outstanding results.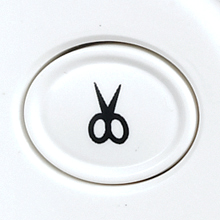 Automatic Thread Cutter.
The MB-4S automatically cuts jump threads - even between letters - saving you time and hassle.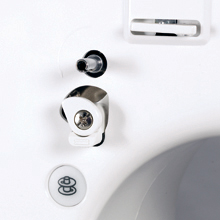 Dedicated Bobbin Winding Motor.
This feature - not found on professional machines - winds new bobbins even while the machine is stitching a design.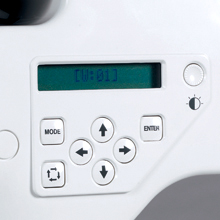 On Board Control,
The MB-4S includes an on-board sub-control device. You can use it without the controller! The MB-4S also includes 3 MB of memory which can store up to 1,500,000 stitches or up to 100 designs.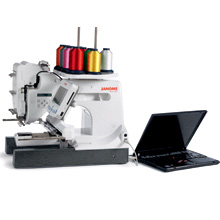 Link Directly to PC.
The on-board USB slave port connects directly to your PC with Digitizer MB software, sold separately.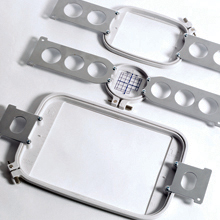 Embroidery Hoops
Three included MB-4S hoops snap in and out with ease. They provide the embroidery areas most often used in the industry. The MB-4S is also fully compatible with industry-standard Tajima hoops.